The Prague Stringology Conference 2018
Prague, Czech Republic, August 27–28, 2018
---
Conference dinner: TBA
Submissions (Accepting final versions, see instructions.)
Eduroam is available on-site, Eduroam Configuration Assistant Tool.
---
Registration:
Online registration:
Registration site
Registration site SSL certificate has these fingerprints:
SHA512 Fingerprint=93:1F:E1:72:6E:77:6E:E8:D0:7C:0C:ED:6E:3B:5A:0E:A2:1E:D9:B6:EF:2A:2B:79:D4:17:33:7B:15:59:73:E3:3A:75:AC:8C:0E:CE:20:F9:F9:49:68:93:81:CE:EB:9C:21:B4:78:1D:57:91:2B:59:3C:99:CD:EC:86:1A:57:42
SHA256 Fingerprint=35:DC:D4:08:F2:A2:13:DA:63:10:32:13:7A:CC:F0:15:EE:54:E0:F5:77:0E:72:AF:3A:50:D5:26:1D:12:70:8F
SHA1 Fingerprint=57:47:81:B4:28:99:77:C4:B4:5F:DC:44:9E:DE:B7:29:54:9F:09:50
MD5 Fingerprint=A6:88:2E:1B:91:20:0F:81:4C:6A:62:E9:2B:CD:FC:88
Registration fee:
| | | | |
| --- | --- | --- | --- |
| | Early registration | Late registration | |
| Conference fee | EUR 210 | EUR 260 | (proceedings, refreshment, social event, conference dinner) |
| Accompanying person | EUR 70 | EUR 80 | (social event, conference dinner) |

The registration fee should be sent by money transfer to the following account:

| | |
| --- | --- |
| account name: | Ceska informaticka spolecnost |
| account number: | 42930011/0100 |
| bank name: | Komercni banka |
| bank address: | Spalena 51,110 00, Praha 1, Czech Republic |
| IBAN: | CZ34 0100 0000 0000 4293 0011 |
| SWIFT code: | KOMBCZPPxxx (11 characters variant) or KOMBCZPP (8 characters variant) |
| Bank Transfer Fee: | Non-EU attendees should use SHA (shared) transfer costs. For EU attendees, SEPA transfer is the preferred way. If unsure, please ask at your bank. |
| message: | name(s) of person(s) the fee is payed for |



Your receipt of the registration fee payment will be available at the conference site. We are sorry we cannot accept payments via credit card.

PSC 2018 is the 22st Stringology conference. It is an international conference focusing on stringology and related areas. It is organized annually by the Prague Stringology Club, a research group in the Department of Theoretical Computer Science at the Faculty of Information Technology, Czech Technical University in Prague. The proceedings of recent conferences are indexed in DBLP, Scopus, and Web of Science of Thomson Reuters.

Stringology is a part of algorithmic research that deals with the processing of text strings. It has existed for at least thirty years and developed into a respected subfield of its own. The last twenty years have produced an explosion of new results. This progress is due in part to the human genome effort, an area to which string algorithms can make important contributions. String processing extended into tree processing is called arbology.

The topics of the conference include but are not limited to:
algorithms for pattern matching in strings, images and trees
data structures (automata, trees etc.) for pattern matching in strings, images and trees
coding and data compression
bioinformatics
information retrieval
string processing algorithms in databases
searching for regularities
natural language processing
Submission of Papers: May 12 May 26, 2018
Notification of Acceptance: June 20 June 27, 2018
Early Registration Due: July 7 July 13, 2018
Final Version Due: July 7 July 13, 2018
Conference: August 27–29 August 27–28, 2018
Authors of accepted papers are required to submit full source codes of their papers (up to 15 pages, A4 page format). Please, follow submission instructions, EasyChair cannot be used.
If you have any problems/questions on submissions, please contact the editors at (pscᏍstringology.org).
For their final version, the papers are required to be prepared using PSC LaTeX style available at http://www.stringology.org/pscproc2.
Invited talk:
Esko Ukkonen (University of Helsinki, Finland)
Discovery of regulatory motifs in DNA
Jackie Daykin, Richard Groult, Yannick Guesnet, Thierry Lecroq, Arnaud Lefebvre, Martine Léonard, Laurent Mouchard, Elise Prieur-Gaston and Bruce Watson. Three Strategies for the Dead-Zone String Matching Algorithm
Frantisek Franek, Michael Liut and William F. Smyth. On Baier's sort of maximal Lyndon substrings
Noriki Fujisato, Yuto Nakashima, Shunsuke Inenaga, Hideo Bannai and Masayuki Takeda. Right-to-left online construction of parameterized position heaps
Shmuel Tomi Klein, Elina Opalinsky and Dana Shapira. Synchronizing Dynamic Huffman Codes
Shmuel Tomi Klein and Dana Shapira. Fibonacci Based Compressed Suffix Array
Neerja Mhaskar, Bill Smyth, Ali Alatabbi, Jacqueline Daykin and M. Sohel Rahman. A Faster V-order String Comparison Algorithm
Akihiro Nishi, Yuto Nakashima, Shunsuke Inenaga, Hideo Bannai and Masayuki Takeda. O(n log n)-time text compression by LZ-style longest first substitution
Filip Pavetic, Ivan Katanic, Gustav Matula, Goran Zuzic and Mile Sikic. Fast and simple algorithms for computing both LCSk and LCSk+
Eliška Šestáková, Jan Janoušek and Bořivoj Melichar. Constrained Approximate Subtree Matching by Finite Automata
B. Riva Shalom. Parameterized Dictionary Matching with One Gap
Accommodation:
There are several hotels in Dejvice quarter (Hotel Diplomat, Hotel DAP, Hotel Crowne Plaza just to mention a few).
We found out that our negotiated price cannot beat the prices available via some large booking servers. Please use your favourite one to make your hotel booking.
Venue
The Prague Stringology Conference 2018 will be held in room A1455 in 14th floor at the Faculty of information technology, CTU in Prague, in building A where Faculty of civil engineering and Faculty of information technology are situated. Its address is Thakurova 7, Prague 6. See location in a map.
View from south, note building A is the tallest building in the campus, it cannot be missed. The entrance is situated on the left of the building in this picture.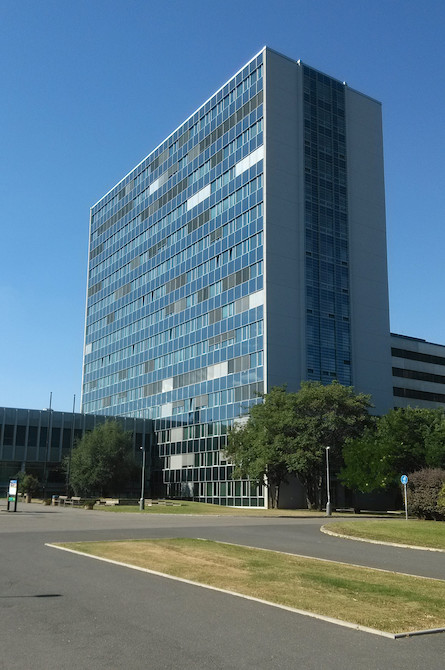 The faculty is situated just a few minutes from the Prague Castle, the dominant symbol of Prague, from where you can visit all the interesting places and sights of historical Prague – the Charles Bridge, Old Town Square, Lesser Town and others. The CTU campus is located in the centre of one of the most important Prague's districts of Dejvice, near the underground station of route A. This route has direct bus connection from the Prague Airport. How to get to Dejvice. (Note there is a new section of metro so the bus from the airport ends at Veleslavín station.)
---
PSC 2018 was preceded by Prague Stringology Workshops in 1996-2000 and by Prague Stringology Conferences starting from 2001. Each year proceedings are prepared for the conference. They are published by Czech Technical University in Prague and are also available from the PSC web pages. Selected papers from the later workshops were also published in a special issue of the journal Kybernetika (IF in 2009 was 0.445). Selected papers from the 2002-2006, 2008 conferences were then published in the Nordic Journal of Computing, Journal of Automata, Languages and Combinatorics, International Journal of Foundations of Computer Science (IF in 2013 was 0.326), and Discrete Applied Mathematics (IF in 2013 was 0.677).
Program Committee:
A. Amir, Bar Ilan University, Israel
G. Andrejková, P. J. Šafárik University, Slovakia
S. Faro, University of Catania, Italy
F. Franek, McMaster University, Canada
J. Holub (co-chair), Czech Technical University in Prague, Czech Republic
C. S. Iliopoulos, King's College London, UK
S. Inenaga, Kyushu University, Japan
S. T. Klein (co-chair), Bar Ilan University, Israel
T. Lecroq, University of Rouen, France
B. Melichar (honorary chair), Czech Technical University in Prague, Czech Republic
Y. Pinzon, National University of Colombia, Colombia
W. F. Smyth, McMaster University, Canada, and Murdoch University, Australia
B. W. Watson, FASTAR Group (Stellenbosch University), South Africa
J. Žďárek, Czech Technical University in Prague, Czech Republic

Organizing Committee:
M. Balík (co-chair), Czech Technical University in Prague, Czech Republic
O. Guth, Czech Technical University in Prague, Czech Republic
J. Holub (co-chair), Czech Technical University in Prague, Czech Republic
B. Melichar, Czech Technical University in Prague, Czech Republic
R. Polach, Czech Technical University in Prague, Czech Republic
J. Travnicek, Czech Technical University in Prague, Czech Republic
J. Žďárek, Czech Technical University in Prague, Czech Republic

---
Last modified: Aug 6 2018, Jan Zdarek